December 2018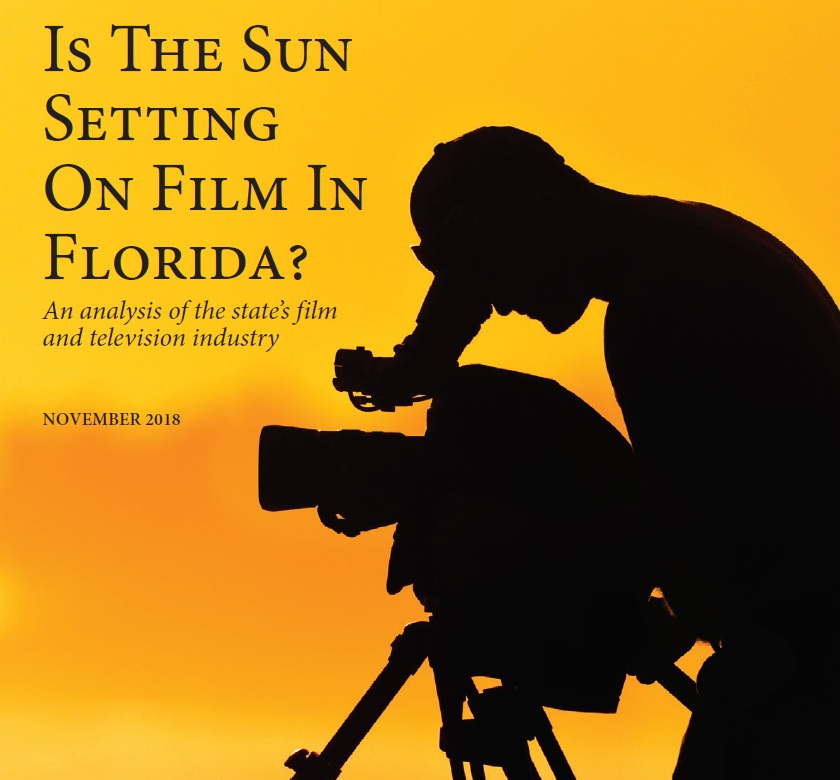 Florida TaxWatch released a report examining how states lure film & TV projects
Florida TaxWatch released a report last month examining how other states lure film and television projects to do business in their states and what Florida can learn from them.
"The use of economic incentives has created an arms race between states and countries competing for film and television productions and the resulting job creation and economic development," Florida TaxWatch noted. "While TaxWatch maintains that incentives should not be used as a substitute for the fundamentals of good economic growth, TaxWatch does recommend that incentives for the film and television industry be considered as a part of the Florida's overall economic development strategy."

Read the full report here: CLICK LINK
Film Tampa Bay Local Spotlight Continues: Company Man Studios
In the words of Company Man themselves, "it's all about the company we keep."
"We care for the people we work with. Staff. Collaborators. Clients. It doesn't matter. Every person—and project—are treated with the same level of integrity and respect. After all, the relationships we have are how we measure our success.
And, we consider ourselves to be pretty successful."
Stay tuned for more about Company Man.
Happy Holidays everyone! Santa came early this year with an unexpected, but favorable assessment from Florida Tax Watch. As a highly respected nonpartisan government watchdog, their analysis of various tax programs holds significant weight with legislatures. This past year Tax Watch took it upon themselves to study the multiple outcomes of our previous state incentive. While an ideological hot button, the report brushed away many of the contrived lines for or against the program, focusing squarely on the metrics and outcomes. I encourage you to read the entirety of their findings, which we have linked below. Here are a few highlights.

In 2017, there were more than 4,400 businesses in Florida's film and entertainment industry, Employing more than 26,000 Floridians, with an average salary 69% higher than the average annual wage across all industries in Florida. These are high-quality, high-paying, non-polluting jobs. The previous year saw $2.2 Billion total wages paid to employees working in Florida's Film industry.

Their overall findings? Florida is missing out on new and significant revenue by ignoring states who offer more competitive advantages. The previous program wasn't perfect, and there are indications that the inclusion of video games and specific digital media projects may have disproportionately taken advantage of the program. Which, unfortunately, lowered the overall ROI despite overwhelmingly positive numbers from features and TV series. But, as Tax Watch states, the answer was not to throw out the program but to fix the issues to maximize our competitive edge while maintaining a strong ROI.

No one is suggesting 'Hollywood handouts,' and despite the propaganda efforts of individual organizations opposed to film incentives, Florida had (and should continue to have!) one of the most fiscally responsible programs in the nation. Incentives are just one of many tools that a state can use, and we will, of course, continue to explore other means, but as Tax Watch states, the current status quo is unacceptable. Again, I would encourage everyone to read the full report. The best argument is always the one supported by facts.

From everyone at Film Tampa Bay, we wish you a fantastic Holiday season and a happy New Year. We will see you in 2019.
Thank you to everyone who joined us for Holidazzle!
Women in Film & Television Florida - Tampa Bay and Film Tampa Bay hosted the first Holidazzle! Dec 19 at Armature Works! It was a night to remember, thank you to everyone who attended!

To view all of the photos from the night's festivities, follow us on Facebook.
Reminder: GIFF Still Accepting Film Submissions
It's that time again -- Gasparilla International Film Festival announced next year's dates, and they are having an open call for film submissions. If you would like to enter your film, submit by follow the LINK HERE.
Don't forget to mark your calendars for next year's festival dates, March 19-24. For more information and updates, visit www.gasparillafilm.com.
Film Florida December Quarterly Meeting
Thank you to Film Orlando and Universal Studios Florida Production Group for graciously hosting the Film Florida Quarterly Meeting earlier this month. December's Film Florida meet up was a great success. We were joined by Florida Film and Entertainment Advisory Council (FFEAC), and engaged with the public on a number of industry topics, such as unions and the workforce, as well as the incentive discussion and Florida Tax Watch's report.