February 2019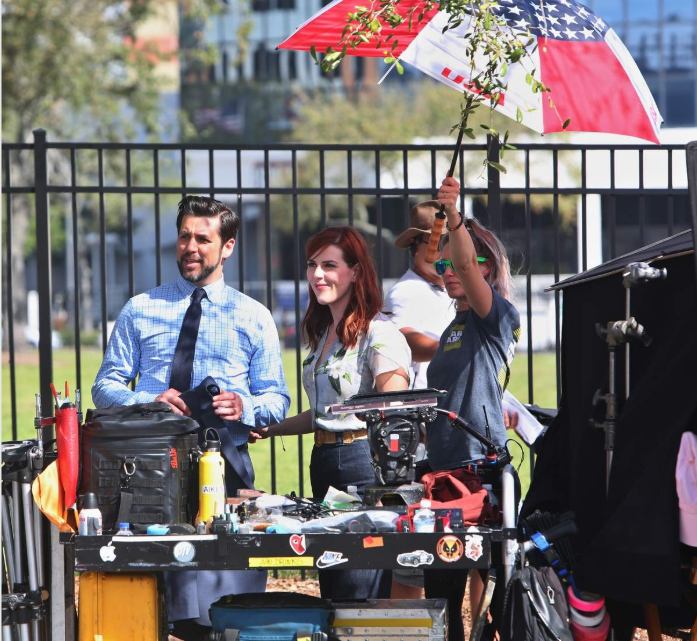 Get the tissues: A Hallmark movie is being filmed in St. Pete
Hallmark movies are those guilty pleasures countless people won't admit they watch. Yet they do, hidden in the comfortable confines of their homes.
The next time Tampa Bay area residents are secretly enjoying one, they may spot familiar locations.
Garden Party, slated to premiere on the Hallmark Channel in April, has been filming in St. Petersburg throughout February. It is set to wrap at the end of the month.

For the full article, CLICK HERE.
Film Tampa Bay Local Spotlight Continues: Film Bar Mondays
To quote the founder: Charles Judson, "Film Bar Mondays is a concept that was designed to be stolen... It just has some basic tenants: It's FREE and open to everyone. No one makes money off it. Nothing that makes it feel like a networking event, hence the three sacred rules: 1) No business cards. 2) No Headshots. 3) No Desperation.

In reality, business cards are allowed. It's just the focus of Film Bar is to create relationships and build community first and foremost. That's how the jobs and projects will come, from having a stronger, more tight-knit community."

Stay tuned for more about Film Bar Mondays.
I've never been one to put much stock in numerology, but this year's 13th annual Gasparilla International Film Festival is shaping up to be a lucky one. Lucky for a variety of reasons, not the least of which is how lucky Tampa Bay is to have such an active and supportive film community. GIFF was founded in 2007, and in just 13 short years, GIFF has grown to be one of the largest film festivals in the state, with national and international recognition. Sure a film festival plays films, but its so much more than that.

GIFF provides an opportunity to not just watch films with your community, but it also encourages discussions about new ideas and culturally challenging topics. The very best film festivals bring new ideas to a community, and challenge the way we think and see the world. We encourage you to do more than just attend the festival, we hope you will be an active part of it.

I would be remiss if I didn't mention GIFF's educational efforts. With the help of community partners, such as Rob and Mary Molloy, and Spectrum (the Emmy award-winning branding and content studio!) Film Tampa Bay is proud to announce a record number of scholarship opportunities for young filmmakers and students. This year GIFF will award $20,000 in scholarships and equipment to young talented filmmakers with the help of the Hillsborough County Education Foundation.

So be among the 15,000 annual guests to this year's Gasparilla International Film Festival. We will see you at the movies!
Suncoast Credit Union's 13th Annual Gasparilla International Film Festival Program Guide is LIVE!
Click the image to explore the full calendar of this year's amazing films.
Gasparilla Intl. Film Festival: Commission's Picks
Gasparilla Intl. Film Festival kicks off March 19 - 24. Here are the Tampa Bay film commissioner's top picks throughout the festival week:

Tue, Mar 19 | The Hummingbird Project (7pm) With echoes of the social network, Hummingbird Project brings together an all-star cast lead by Jesse Eisenberg, Alexander Skarsgard, and Salma Hayek. An at times crazy romp, with surprising humor and warmth. An excellent pick for opening night, not to be missed!

Wed, Mar 20 | The Tomorrow Man (6:30pm) John Lithgow provides a commanding performance as an aging 'prepper' in this unexpected love story. Joined by Blythe Danner, their chemistry crackles in what could be the most charming film of this years festival.

Thu, Mar 21 | The Brink (6pm) Wildly controversial and vilified, Steve Bannon might not be your first choice for relaxing entertainment. The Brink provides an intimate look into the machinations of one of politics most incendiary players.

Fri, Mar 22 | Storm Boy (5:30pm) If there is one film at this year's festival that will leave you 'ugly crying' its Storm Boy. A riveting emotional tale brought to life through a masterful performance by Geoffrey Rush. The remarkable pelican 'Mr Percival,' will remind you of the importance of being good stewards to the land and animals around us.

Sat, Mar 23 | Cold Brook (8:00pm) My overall pick of the festival, is a street-level paranormal drama that tackles a surprising number of social issues. Deftly directed by William Fichtner (in attendance!), the film will leave you feeling good about humanity and peoples ability to do right by one another.

Sun, Mar 24 | High School Shorts (2pm) Nothing compares to seeing the faces of young filmmakers watching their films light up the big screen for the first time. Join the most talented high school filmmakers in the Bay Area as we celebrate their talents.

For the full program guide, and for ticket information, please visit www.gasparillafilmfestival.com.
The Art of Women explored different art styles; a memorable display of creativity and culture
The Art of Women: A Heart and Soul Celebration was a great success! We enjoyed several art displays created by local female creatives. Seven digital projection installations, three performance artist installations, and one live intuitive painting installation. The event was full of memorable pieces and great connections!
Coming Soon
Second Screen Cult Cinema
Wed, Mar 13
"Paris is Burning"
6 pm cocktails | 7 pm showtime
Epicurean Hotel, Autograph Collection
12017 S Howard Ave Tampa, FL 33606

Film Bar Mondays
Mondays 6pm - 9pm
Tampa Bay Locations Vary
Stay up to date by
joining them on Facebook

WIFT Wednesdays
Women in Film & TV
Stay tuned for time and location
on their Facebook page
Recent Productions
23 productions filmed within
Hillsborough County - February 2019

Notable Commercial
Nike
Lowes Canada
Continental Tire
Dicks Sporting Goods

Notable Feature Film
Hallmark's Garden Party

Notable TV Show
Total Divas (Season 9)
Expedition Unknown with Josh Gates