April 2019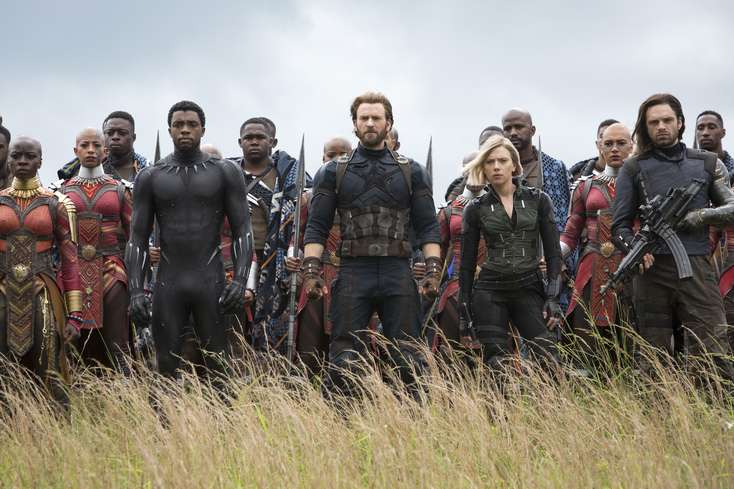 Do you know Tampa's connections to Avengers Endgame?
Check out the Film Tampa Bay connections to the Marvel cinematic universe and Avengers Endgame.

From Angela Bassett and Dave Bautista, to Bob Layton and off-screen production assistants, our Bay area ties may surprise you.

For the full article, CLICK HERE.
Harry Connick Jr., Katherine Heigl, Madison Iseman Filming "I Saw a Man With Yellow Eyes" in Tampa Bay
Katherine Heigl (27 Dresses, The Ugly Truth), Harry Connick Jr. (Dolphin Tale, Will & Grace), and Madison Iseman (Jumanji: Welcome to the Jungle, Goosebumps 2: Haunted Halloween) are set to star in I Saw a Man with Yellow Eyes, a psychological thriller written and directed by Castille Landon. The film will start shooting this week in Tampa Bay and St. Pete.
The pic follows a teenage girl living with schizophrenia who struggles with vivid and terrifying hallucinations as she begins to suspect her neighbor has kidnapped a child. Her parents try desperately to help her live a normal life, without exposing their own tragic secrets, and the only person who believes her is Caleb – a boy she isn't even sure exists.
For the full story, CLICK HERE.
We also got a chance to sit down with Katherine Heigl & Harry Connick Jr. this month for an inside scoop on the new film.
Tampa Bay has had several big wins over the last few months. As we close out Q2 for this fiscal year, it's hard to believe we have done 35% more in production activity and local expenditures than this same period last year. As we finish tallying our numbers through February, we are only $764,000 and 105 permits short from beating all of last fiscal's metrics.

Over the past year, we have focused on telling Tampa Bay's story. Engaging professionals and production companies from across the U.S. Marketing additions, like this very newsletter, have helped elevate our messaging and positioned us as a real talking point amongst producers. But we know the economy is fickle, and perhaps sooner rather than later, an economic downturn may come, which makes the next few months critical in laying a solid foundation that can weather any potential coming storms.

It's vitally important that we as a community continue to provide a film-friendly environment. Opening our doors to responsible film productions, and sharing Tampa Bay's story. Destination filmmaking is about more than locations; it's about the support and hospitality a community provides. It is by that metric, more than any other, we will continue to grade ourselves on.
Local Production Spotlight Continued…
We sat down with Dunn & Co. to talk about how they became the award-winning Tampa Bay ad agency.

"We make things. Products. Films. Brands. Social movements. Even those things we affectionately call "Ads." From classic brochures to complete brand overhauls, everything we create begins with a simple human truth that leads to something aesthetically and emotionally beautiful for humans to engage with – or at least until humanoid robots become the next great consumer class."

Stay tuned for more about Dunn & Co.
The Great Food Truck Race in Tampa
Sheriff Chad Chronister joined in the fun as Food Network's The Great Food Truck Race with host Tyler Florence was filming at Curtis Hixon Park and other downtown Tampa locations last month.
Coming Soon
Limelight Speaker Series Presents
JENNA HAGER
Thu, May 2
Tampa Theatre
711 N Franklin St. Tampa, FL 33602

Second Screen Cult Cinema
Wed, May 8
"Black Narcissus" (1947)
6 pm cocktails | 7 pm showtime
Epicurean Hotel, Autograph Collection
12017 S Howard Ave Tampa, FL 33606

Film Bar Mondays
Mondays 6pm - 9pm
Tampa Bay Locations Vary
Stay up to date by
joining them on Facebook

WIFT Wednesdays
Women in Film & TV
Stay tuned for time and location
on their Facebook page

Because of Sam "First Look" Screening
Mon, Jul 29 7:30 - 9pm
Tampa Theatre
711 N Franklin St. Tampa, FL 33602
Tickets available now!
Recent Productions
27 productions filmed within
Hillsborough County - April 2019

Notable Commercial
Advent Health
National Pediatric Foundation

Notable Feature Film
I Saw a Man with Yellow Eyes

Notable TV Show
Homicide: Hours to Kill
American Monster Season 4
Secrets of the Zoo
The Great Food Truck Race
Total Divas Season 9
Siesta Key Season 3