October 2018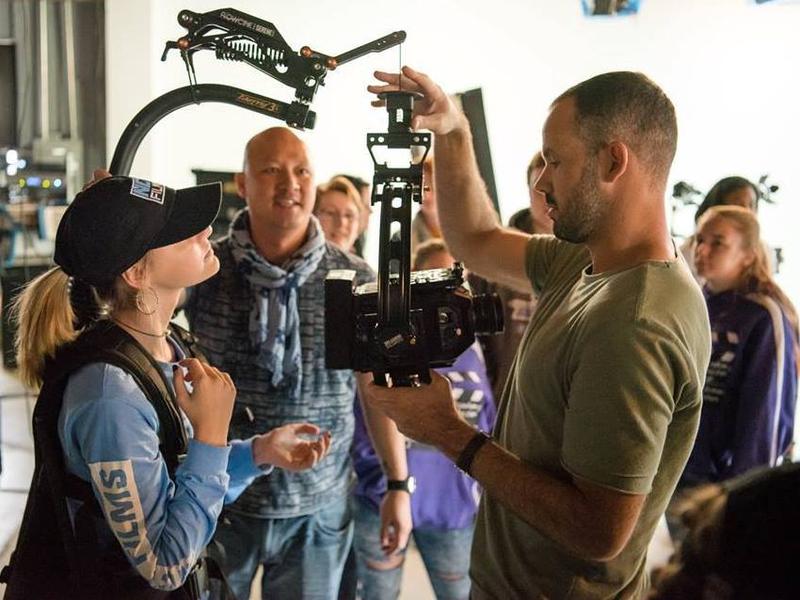 Florida Matters Interviews Tampa and Hillsborough Film Commissioner, Tyler Martinolich
Films like "Magic Mike" and "Dolphin Tale," and TV shows like Netflix's "Bloodline" and HBO's "Ballers," kept those who worked in Florida's film industry very busy.
But after the state ended its tax credit program for filmmakers in 2016, fewer big productions have been shot here, with some existing projects leaving Florida for states that still offer lucrative incentives like Georgia. Some who work in the industry fear as time passes, critical production infrastructure and labor forces in Florida may relocate elsewhere.

Tampa and Hillsborough County Film Commissioner, Tyler Martinolich, speaks to these issues and more in his interview with WUSF's Florida Matters.
Listen to the full interview here: wusfnews.wusf.usf.edu/post/florida-matters-floridas-film-industry
Film Tampa Bay Local Spotlight Continues: Level Talent Group
Level Talent Group is a full-service SAG franchised talent agency that represents union and non-union models and actors of all ages for Film & TV, commercial and print clients.
With a hands-on approach, their dedicated staff proudly nurtures and develops talent to help them meet their highest potential. Being one of the top agencies in the Southeast, our talent can be seen in various commercials and advertisements locally as well as internationally. Level's top actors can be seen in summer blockbuster hits as well as in your streaming-media favorites!
Fall is here, and the film commission has some cool new features. Last week we launched our brand-new website, with new tools to provide a better experience for our users. After years of feedback, we get it, you hate docusign! Our new permitting portal allows you to connect directly with us without using a third party.

You can now upload a copy of your permit application along with your insurance certificate, all in one email. In addition, we will be posting an updated permit later this fall which will further streamline the process. Our website also features an archive of all of our monthly newsletters and videos to keep you up to date with all things film related in Tampa Bay.

This year we are focusing our efforts on telling your story. In addition to our monthly spotlight series, we have partnered with Tampa Bay Arts & Education Network to produce a new TV Series focusing on creatives throughout Hillsborough County to help tell their story and share their experiences with you. The first 10 episodes will launch Nov 5th.

Be on the lookout for more cool changes and additions as the year continues, including new commercials focusing on unique locations, and a docu-series focusing on film-induced tourism.
Jolt TV Premieres Nov 5th
Jolt TV is a community-focused, interview-style TV show hosted by Tyler Martinolich, Film Commissioner of Hillsborough County. Each episode focuses on a different creative personality or filmmaker, offering insights into the creative process.

Show premieres Mon, Nov 5 at 11 am and 1 pm on Spectrum 636 and Frontier FiOS 34, or on Film Tampa Bay's YouTube channel.

Teaser here:
GIFF Now Accepting Film Submissions
It's that time again -- Gasparilla International Film Festival announced next year's dates, and they are having an open call for film submissions. If you would like to enter your film, submit by follow the LINK HERE.
Don't forget to mark your calendars for next year's festival dates, March 19-24. For more information and updates, visit www.gasparillafilm.com.
Tampa Bay Film Society to Host Fashion Show Fundraiser Sun, Nov 11 at 3 pm
The Tampa Bay Film Society has served the bay area for over 10 years. This year, we're aiming to raise $1,000 to fund a scholarship for a graduating High School media student.
This Fashion Show/Fundraiser/Costume Extravaganza event will showcase fashions from top designers and local stores. A red carpet event, live interview with "Hollywood Connection" Dawn Reese, music, a photographer, a 50/50 drawing, silent auction and prizes for the "Best Dressed Hollywood Character." Afterward, have dinner and dance, cash bar, a night full of fun for a good price and great cause.

When: Sun, Nov 11 | 3 - 6 pm

Where: Tarpon Springs Sponge Docks, Aegean Bar Grill Patio
10 Dodecanses Blvd 2nd Floor Tarpon Springs FL 34689

Cost: Single tickets are $30, two for $50, and business (six tickets) is $120. Reservations and payment must be made in advance. You can pay online at: www.tampabayfilmsociety.com under Events. Sponsorship Packages also available online under Events.