August 2018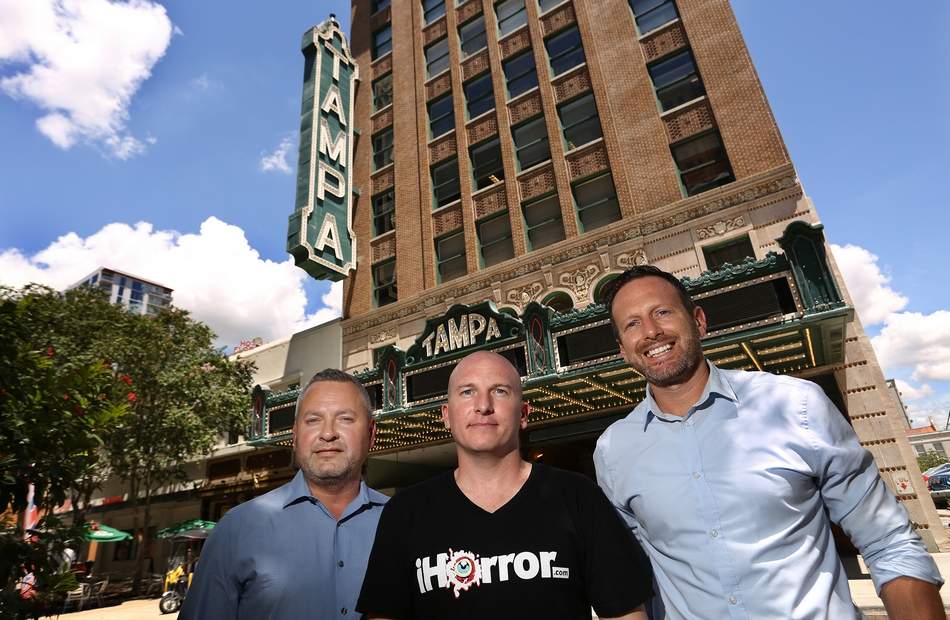 Local producers team with 'Blair Witch'
director for a three-project deal
The Blair Witch Project director Dan Myrick signed a three-project deal with local producers. The first is already in production: Skyman, about a man who believes aliens that abducted him as a child are summoning him for a reunion, which he wants to document on film.
One producer is Tampa's Joe Restaino, whose credits include Kevin Smith's upcoming horror movie Killroy Was Here, filmed in Sarasota.
The other is iHorror.com, a St. Petersburg-based online publication dedicated to covering all things horror. The website staff is involved in on-set production, but their primary contribution will be to bring Myrick back to his roots using a viral marketing campaign to sell a docu-style fictional film.
Horror conventions, video games, movies and TV shows pay iHorror for ad space and to make announcements on its social media channels, reaching more than 4 million Facebook followers.
"This is the perfect marriage," said Myrick, 54 and a Seattle resident. "Their strength is the online space, they are tech savvy and they have a long marketing reach. This just made sense."
Production Spotlight, Digital Caviar
Creative. Effective. Innovative.
Creative, effective, innovative -- Digital Caviar is known for commercial work and motion picture cinematography. They consistently shoot features in our area with offices located in the heart of Ybor City.
This month marks the 5th anniversary of Film Tampa Bay. The current state of the film industry in the bay area is vastly different than when our doors opened in 2013. It had been several years since Tampa had a formalized film commission, the state film incentive program was nearing its end, and Hillsborough County was becoming a footnote in history, a distant cousin to larger markets such as Orlando and Miami.

Our doors opened with a blank slate and a challenge to land a feature film with a production budget of at least $20m within our first fiscal year. I don't think anyone would have guessed we would have found our identity as an organization from a retired U.S. Customs agent, Pablo Escobar, and a book club meeting. Within the first few weeks of opening, Film Commissioner Dale Gordon (2013-2017) was invited to a book reading at the University of Tampa by former undercover agent Bob Mazur, who was in talks to bring his book to life. That book would later become 'The Infiltrator.'

With no state incentives left, we knew we had to be more than a typical film commission if we wanted to facilitate a sizeable feature. It was over the course of that production we shifted our focus toward being a production service company, breaking the mold of traditional film commissions. Most nights it was our small two-person team bagging parking meters, dragging barricades and detour barrels at 4 am, or coordinating and facilitating road closures, and assisting with staging and landing for one of the largest features to film in Hillsborough County in over a decade.

It hasn't always been fun, a particularly low point was losing Ben Affleck's film 'Live By Night' to Savannah. A constant reminder that the lack of support at the state level continues to hurt our industry. But state incentives, while badly needed, will not hold us back as a county. Hillsborough was among the first counties in the state to offer a localized incentive. Our office has aggressively courted upcoming features and projects and for the first time since the inception of our local incentive, we currently have a waiting list of upcoming projects to take advantage of it.

Looking into the future, you will see our organization continue to court projects with a greater focus on generating indigenous content. We will be launching a new website and a brand refresh later this year, with an aggressive push to create and sponsor educational opportunities for Hillsborough County residents which will help to ensure we have a growing crew base to facilitate projects.

Our ambitions have not been cowed in the face of adversity, if anything it makes us fight harder, and you will see Film Tampa Bay continue to lead by example. I'm blessed to have been a part of the last 5 years, and I look forward to a very bright future.
A Look Back at 5 Years of Film Tampa Bay
From The Infiltrator to Street Science, world premieres and million-dollar commercials -- we are proud to be your film commission. Being a part of the community has always been at the heart of what we do, providing more educational and scholarship opportunities, community events and bringing more work to local crew. Thank you to everyone who helps us bring more production here, as well as bring the film community together here in Tampa Bay.

Here is a look at some of our memories with you all.
Film Florida Launches All-New Hillsborough County Location Reel
From Tampa's urban skyline and the historic red brick of Ybor City, to the hills of Streamsong and the agricultural frontier of Plant City, Hillsborough County has something to offer for every production. Like our page and film your next scene here.

Thank you to our friends at Film Florida for providing this captivating highlight reel. All photos taken by Matt Paulson.
Recent Productions
12 productions filmed within
Hillsborough County - August 2018

Notable Documentary
Harley-Davidson "The Real Adventure"

Notable Commercial
Visit Florida